Golf coaching is all about you and what you want to get out of your game. We pride ourselves on being good listeners and aim to provide the best possible professional advice, whilst ensuring each lesson is tailored and enjoyable for the golfer.
Why Coaching?
We're passionate about helping you play better golf.
Every golfer enjoys the game more when they're hitting good shots and playing well. This is our mission for you.
Think back to your last few rounds and try to pinpoint an area that cost you shots…
Maybe, you had too many three-putts as a result of poor distance control? Or did you miss too many fairways to the right meaning you had to chip out sideways? It could be that you play well in practice rounds with your friends but struggle to replicate that in competitions?
Through our experiences in the game and our PGA education, we appreciate that every golfer is different. That's why we offer a range of lessons and packages to suit everyone.
Lessons will cover:
Golf Fundamentals
Swing Basics
Short Game
Long Game
Course Management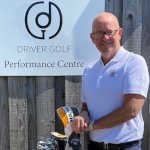 Duncan Driver - Head PGA Professional
I have been a member of the PGA for over 30 years and have just recently been named in Today's Golfer's Top 50 coaches. During my time as a PGA professional I have built up an extensive knowledge of the mechanics and fundamentals of the golf swing, teaching beginners right the way through to fellow Professionals. My philosophy is simple; not everybody has to swing the club the same way, so I teach according to the individual's requirements and needs.
---
Duncan knows what he's talking about!!! Amazing and patient teacher, would highly recommend.
Lorcan Hankin - Club Member
Very friendly, helpful and professional, I'll be booking more lessons for the year ahead ????
Barnaby Down - Club Member
I would highly recommend Duncan as a coach. He has a happy knack of seeing the faults in your swing and giving simple solutions to the problem. As a golfer of a certain age he notes your swing and flexibility and builds on that. In short he is a first class instructor.
Arthur Daines - Club Member
I've had several group lessons with Duncan, with more to come when circumstances allow. He's an excellent teacher, giving constructive feedback and putting everyone at ease. Crucially, he also makes the whole experience fun.
Nick Ashwell (hcp 28) - Club Member