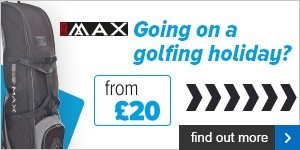 Are you thinking of going on a golf holiday abroad? Maybe you've already booked one for later this year or next? Either way, we are pleased to offer you our Golf Travel Cover Rental Service.
Taking your clubs away with you can become quite a hassle but we want to make it as easy as possible for you. For just £20 you can have exclusive use of our travel cover for the duration of your trip*.
It really is that simple so make sure you come and speak to us before your next golfing trip, we'll be delighted to help.
Terms and conditions
Maximum rental period for £20 will be 10 days.
Price on request for rental periods longer than 10 days.
Golfer is responsible for the return in good condition and is liable for any damage or loss of travel cover.
Cost of replacement is £99.95
Failure to return the travel cover within the agreed 10 period will result in an additional charge.
The professional reserves the right to end the programme at any time without prior notice.